Regular price
$299.99 CAD
Regular price
$329.99 CAD
Sale price
$299.99 CAD
Unit price
per
Sale
Sold out
MRE 12-Pack, 3 Course Meals w/ Heater

Fresh MREs (Meals, Ready to Eat)
5-year shelf life
12 individually packaged 3-course MREs with flameless ration heaters
New lighter, transparent, US Military Specification Multivac packaging has significantly reduced plastic and improved pack-ability.
Attention: This item is for Pre-Order only and will not ship until December 2023. You will be charged full price and cases will be shipped on a first-purchase, first-shipped basis. Cancellation is easy and completely hassle free so long as your request is received prior to shipping. For more information please read our terms and conditions. 
Features

5-YEAR SHELF LIFE
12 INDIVIDUALLY RETORT PACKAGED, 3-COURSE MREs
100% MILITARY FOOD COMPONENTS
1,200+ CALORIES AVG. PER MEAL
FLAMELESS RATION HEATER IN EACH MEAL
READY TO EAT, FULLY COOKED FOOD
MADE IN THE U.S.A.
Returns and Cancellations
Share
View full details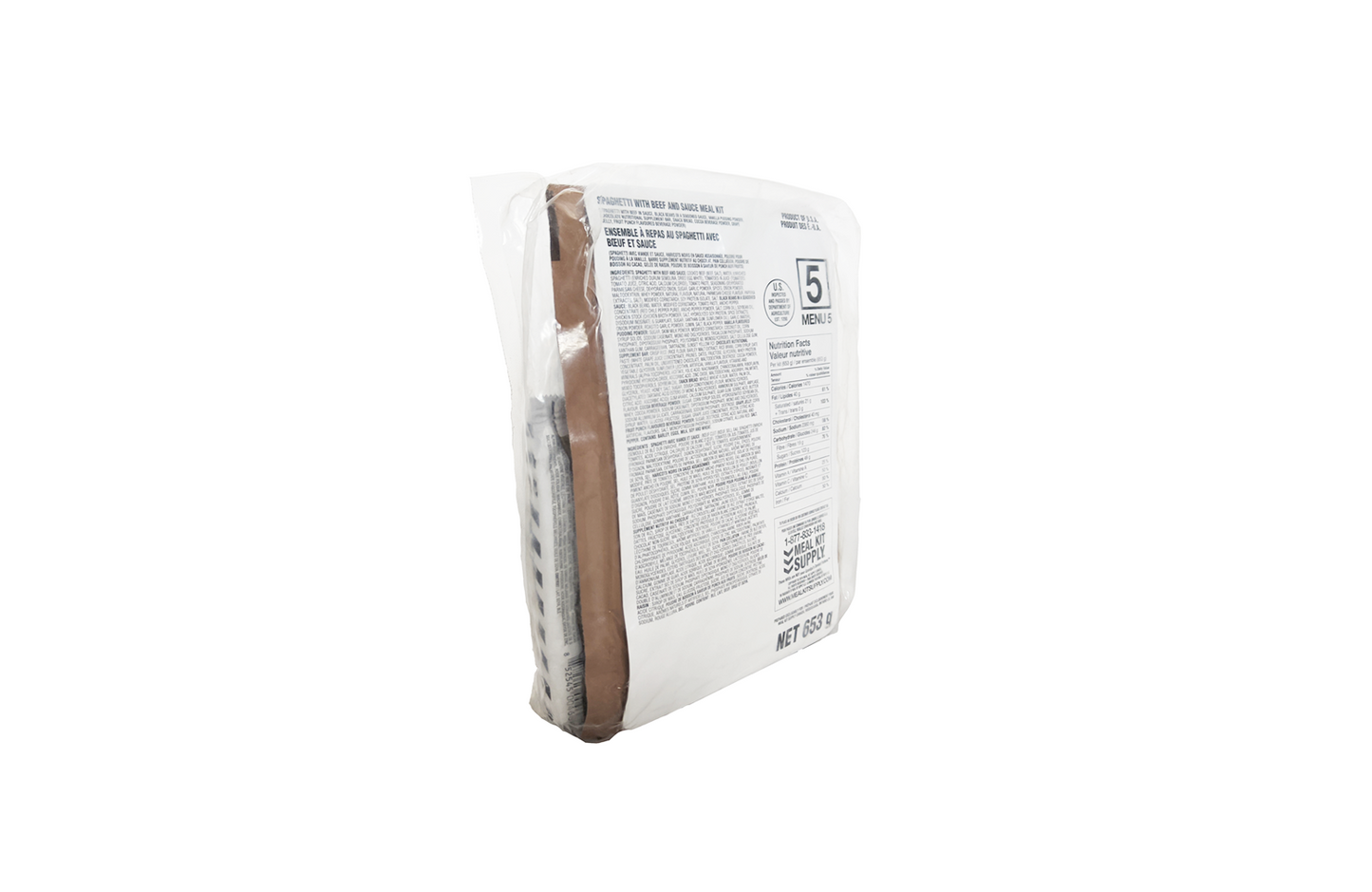 A Hot Meal, Anytime

Each MRE includes a Flameless Ration Heater, which is activated by 30mL of any type of water. That means you can have a piping hot meal without fussing with a campfire, your stove, or boiling water. All food is pre-cooked, so you can also eat it cold.

5-Year Shelf Life

Because they're retort packaged, MREs won't expire for at least 5 years. Meal Kit Supply provides the freshest product commercially available, so you get the longest shelf life possible.

100% Ruggedized

MREs are impact-resistant, water-proof, and hermetically sealed against pests. That means you can drop them, cram them, submerge them in water, and keep them at a campsite without rodents (or bears) smelling them. 
What Separates Meal Kit Supply From The Rest?
The 12-case is our premium MRE product, offering more calories per meal, more menu variety and more food items. Plus, we have breakfast. Specifically, each MRE contains: entree, side dish, dessert, cold drink mix, spoon, condiments, napkin, moist towelette, and flameless ration heater. Some MREs contain bread item and jam/spreads. 
NO-COOK CAMPING MEALS

EMERGENCY PREPAREDNESS

PREFERRED BY POLICE AND FIRE
- Steve1989MREInfo (MRE YouTuber w/ 1M+ Subscribers)
"There are a lot of civilian MRE companies out there. I can only recommend one brand and that is Meal Kit Supply. For whatever that's worth. Stock up accordingly."
WATCH FULL YOUTUBE REVIEW